Breadcrumb Trail Links
News
Local News
Volunteers have delivered more than 14,000 warm meals to Regina's vulnerable populations since last November.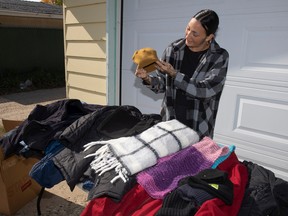 Comeback Society CEO Alicia Morrow holds donated garments for this year's winter clothing drive, which began Sunday at partnered pick-up and drop-off location The Everyday Kitchen. Photo by KAYLE NEIS /Regina Leader-Post
Article content
When Alicia Morrow thinks about reconciliation, she thinks about the act of reconnecting.
Advertisement 2
This advertisement has not loaded yet, but your article continues below.
Article content
Morrow is one of two founders of a non-profit group called The Comeback Society, which is working to reclaim and deliver connections to Indigenous culture in Regina.
Regina Leader Post Headline News
By clicking on the sign up button you consent to receive the above newsletter from Postmedia Network Inc. You may unsubscribe any time by clicking on the unsubscribe link at the bottom of our emails. Postmedia Network Inc. | 365 Bloor Street East, Toronto, Ontario, M4W 3L4 | 416-383-2300
Thanks for signing up!
Article content
The idea began as a podcast with her sister Lexie Obey, to talk about the experience of reclaiming Indigenous culture in an urban setting. Morrow, similar to her sister, is a member of Peepeekisis Cree Nation but grew up in a north central neighbourhood of Regina.
In speaking with guests from across Canada, the pair found that there was a commonality in the Indigenous experience of living within city limits, a need for connectedness but a lack of culturally informed spaces.
"We said, what if we incorporated as a non-profit and shift our focus to creating programming, creating culture accessibility," said Morrow.
Advertisement 3
This advertisement has not loaded yet, but your article continues below.
Article content
It sparked a passion, and The Comeback Society took root. The vision, said Morrow, involves cultural reconnection, sustainability, and support for the Indigenous community in a society that has colonized their existence.
"Part of the reason we're called The Comeback Society is because we're coming home. We were never gone; we're just coming back," said Morrow.
The first opportunity for action came in November 2021, as the sisters considered how they could help the dozens of individuals gathered in the encampment known as Camp Hope.
"One of the fondest memories, between my sister and I, was a bowl of soup and bannock at our kookum's houses, our aunties' houses," said Morrow.
"It's comforting, to us, to have that with our family, and we thought, what if for all these people who are struggling and facing these barriers, what if we made them a bowl of soup and bannock?"
Advertisement 4
This advertisement has not loaded yet, but your article continues below.
Article content
For the final two days before the camp disassembled, the two prepared and handed out the warm meal of their childhood to those gathered in Pepsi Park. Once dispersed, the idea continued.
"Camp Hope was more than just a place to sleep. It ended up becoming a central place for food access (and) we realized there was a huge food security crisis in the city," said Morrow.
With help from volunteers, the Comeback Society continued offering what they could to those in need, making and handing out warm meals in the downtown core every Sunday.
Since last fall, the meal program has delivered more than 14,000 meals in a little under a year, prepared by volunteer hands using the kitchen at the Regina Food Bank.
During that time, the non-profit also began collecting donations of wish list items, putting together toiletry kits and handing out clothing. Volunteers provide Naloxone kits and run cultural workshops aimed at reclaiming Indigenous identity.
Advertisement 5
This advertisement has not loaded yet, but your article continues below.
Article content
Everything is offered without barriers like paperwork, sobriety restrictions or pickup limits, said Morrow, as an effort to do non-profit work differently.
"We're not here to police anything. We say take as many (meals or kits) as you need," said Morrow. "I think that's why our program has become so successful. We really are here to meet people where they're at."
It's thanks to the help of a passionate community, said Morrow, as The Comeback Society currently runs as a grassroots group — meaning no grants and no government support.
Donations have been quintessential, said Morrow, with the non-profit relying on local partners and its social media following to keep all of its programs running.
Part of this was because Morrow wanted to ensure the idea was sustainable, long-term, but the other piece was wanting to make connections within the local community, in the spirit of reconciliation.
Advertisement 6
This advertisement has not loaded yet, but your article continues below.
Article content
"I wanted to see how far we can go to create something on the good faith of others, and it's worked really well," said Morrow. "It's really humbling, to know how much support we have."
And it is working. The Comeback Society works with multitudes of partners and the vision for the future is big, said Morrow. She sees a two-year plan, which includes shifting the meal program to be self-sustaining, using wild meat harvested with no-waste practice and growing its own veggies.
She's also elbow deep in expanding offered cultural opportunities, organized and led by Indigenous voices working through The Comeback Society to deliver workshops and developing youth programs.
"It's not hard to do; you just need to be doing it in a good way," said Morrow. "It's amazing to see that we get to connect people with the proper cultural specialists to be able to provide programming from an Indigenous view."
Advertisement 7
This advertisement has not loaded yet, but your article continues below.
Article content



Growing demand for Carmichael Outreach free meal program




City councillor fears for fate of homelessness funding in upcoming budget




Camp Hope organizers, community activists meet with Minister Lori Carr
The news seems to be flying at us faster all the time. From COVID-19 updates to politics and crime and everything in between, it can be hard to keep up. With that in mind, the Regina Leader-Post has created an Afternoon Headlines newsletter that can be delivered daily to your inbox to help make sure you are up to date with the most vital news of the day. Click here to subscribe. 
Share this article in your social network
Advertisement 1
This advertisement has not loaded yet, but your article continues below.
Comments
Postmedia is committed to maintaining a lively but civil forum for discussion and encourage all readers to share their views on our articles. Comments may take up to an hour for moderation before appearing on the site. We ask you to keep your comments relevant and respectful. We have enabled email notifications—you will now receive an email if you receive a reply to your comment, there is an update to a comment thread you follow or if a user you follow comments. Visit our Community Guidelines for more information and details on how to adjust your email settings.