Facility Management Company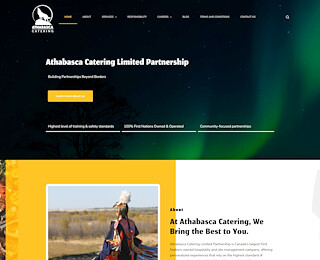 As a business, you recognize the critical importance of efficient facility management. It's a multifaceted discipline that requires a unique blend of expertise, versatility, and dedication to ensure that your premises operate at their optimal capacity.
It becomes even more complex when you factor in the unique challenges presented by remote and diverse locations. This is where Athabasca Catering Limited Partnership, Canada's largest First Nations-owned hospitality and site management company, excels.
Unparalleled Services and Personalized Approach:
At Athabasca Catering, we take pride in our ability to offer unparalleled services, driven by a commitment to the highest standards of training, safety, and quality. Our personalized approach to facility management is one of the reasons we are recognized as leaders in the field.
We remain true to our core values and our Indigenous roots, continually reinforcing positive influences, community empowerment, economic commitments, and mutual respect throughout our business partnerships.
Bridging the Gap Between Traditional and Modern Facility Management:
Cultural Sensitivity: We incorporate our Indigenous roots in our interactions and operations, bringing a culturally sensitive perspective to our facility management approach.
Sustainable Practices: Blending ancient Indigenous knowledge about sustainability with modern green practices, we ensure our operations respect the environment.
Personalized Service: We integrate traditional values of respect and personalized attention with modern customer service techniques to deliver excellent service.
Modern Technology: While maintaining our respect for tradition, we leverage state-of-the-art technology and tools to deliver efficient facility management.
Safety Standards: Marrying traditional safety values with contemporary safety protocols, we provide an environment that's safe for both our clients and employees.
Community Empowerment: Building on the First Nations emphasis on community, we create partnerships that not only serve our clients but also empower the local communities we operate in.
Comprehensive Turnkey Services:
From identifying initial requirements through to mobilization, setup, staffing, management, and demobilization, our team provides a complete turnkey service. We understand that your project needs to move ahead at full speed once it gets the green light.
Whether your operations are in the remote parts of Northern Canada or in bustling downtown Calgary, our team of trained professionals is ready to deliver essential services safely, on time, and on budget.
Value-Added Services and Safety Standards:
In addition to our comprehensive facility management solutions, we can also provide remote power generation, water and waste treatment, IT and communications services and equipment, first aid, entertainment, and security.
Our commitment to safety is unwavering – we proudly hold a Certificate of Recognition (COR) certification, one of the first acquired in Saskatchewan's hospitality industry. Our commitment to regular training and meeting, if not exceeding, all safety protocols reflects our dedication to ensuring a safe and productive environment for our clients and staff.
Contact Us for Facility Management Company
In an industry where the standards are continuously rising, we at Athabasca Catering are proud to be at the forefront of change and innovation. As a leading facility management company, we aim to bring the best to you – in the true spirit of building partnerships beyond borders.
So, if you're seeking a partner that's committed to delivering efficient, safe, and high-quality facility management services, contact us today. Let's talk about solutions that cater to your unique needs.