Breadcrumb Trail Links
Local News
'This is the union wanting to come forward and help the community. We're all Saskatchewan employees, we're all from Saskatchewan, so we're wanting to give back to Saskatchewan.'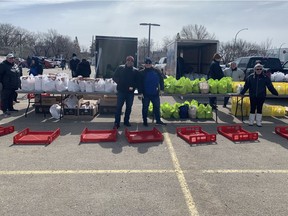 Members of SGEU Local 1101 hand out food hampers at the mâmawêyatitân centre on Saturday, March 26, 2022. Alec Salloum
Article content
People were showing up three hours early to SGEU Local 1101's annual food hamper delivery in Regina on Saturday.
Article content
Local 1101 handed out 200 hampers consisting of 15 items — including ground beef, pancake mix, cereal, frozen vegetables, a 4L jug of milk, and other staples — and within 30 minutes of the 1 p.m. start time, 120 hampers had been donated.
Muna DeCiman, one of the organizers of the event and a member of the local, said there is a huge need for food security in the North Central community, often described as a "food desert". To her and her fellow members, it is important for the union to help the community they're a part of.
"We do this every year, once a year, to show appreciation to tell the community that the unions are not only helping their members, they're also helping non-union members," said DeCiman.
One man who came to collect a hamper said he used to work as a painter and has struggled to find work through the pandemic. He did not want to give his name, saying that he was embarrassed to be in a position where needed to rely on donations.
"Jobs are not coming by as fast as they once were, but I'm just trying my best to help my family where I can and services like this help out a lot," said the man.
"It's not that easy. You know, you've kind of got to suck up your pride but it makes me feel a little better when people like this are giving back to the community."
Hali Topinka, Indigenous vice-president with SGEU and a member of 1101, said setting up the donations at the Mâmawêyatitân Centre made sense logistically, since much of the need comes from in and around North Central.
Article content
"When you bring something like this to a community, you see people that are in need, and the average person doesn't know that," said Topinka.
The SGEU local represents members across many provincial government departments and has around 4700 members.
"This is the union wanting to come forward and help the community. We're all Saskatchewan employees, we're all from Saskatchewan, so we're wanting to give back to Saskatchewan," said Topinka adding, "the cost of food is crazy right now."
Topinka said people lining up early brought home how much need there is in the community.
"We all have to help each other," said DeCiman. "We have to be each other's keepers."



French food giant and Toronto company team up to harness the new promise of Canadian oats




Feds announce $30M for 116 new affordable housing units in Regina