Breadcrumb Trail Links
Local News
The giving season is here and charities around the province are hoping there will be enough to go around this season.
Author of the article:
Kerry Benjoe  •  Regina Leader-Post
Publishing date:
Nov 28, 2016  •  November 28, 2016  •  3 minute read  •  Join the conversation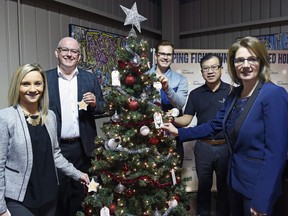 The launch of the Regina Food Bank's 12 Days of Christmas campaign shows from left, Megan Dunn – Sherwood Co-op, Regina Food Bank CEO Steve Compton, Wes Filson – Jump.ca, Phong Le – Good Earth Coffee Shop and Rhonda Speiss with PotashCorp during the launch of the Christmas campaign. Photo by Don Healy /Regina Leader-Post
Article content
The giving season is here, and charities around the province are hoping there will be enough to go around. 
Article content
On Monday, the Regina Food Bank kicked off its annual 12 Days of Giving campaign with a bigger goal than ever — 2,000 hampers.
Steve Compton, food bank CEO, said the organization is gearing up for a higher demand for hampers this years based on the overall increase in usage over the year.
He said the food bank has seen an eight-per-cent increase in 2016, which works out to about 500 more families.
Compton said it will take about $150,000 to meet its Christmas hamper goal.
Although the food bank is happy to accept all food and monetary donations all year around, Compton said financial donations are more helpful because it can stretch a dollar further by purchasing food items from its partners directly.
This year, PotashCorp is matching dollar for dollar every donation made by Saskatchewan residents up to $500,000, which could mean up to $1 million for the food bank.
Sherwood Co-op is once again operating its virtual food drive online campaign. It is geared up for Christmas collections and available at www.reginafoodbank.ca and the co-op website www.sherwoodcoop.com.
The Salvation Army launched its annual Christmas fundraiser over the weekend. It runs until Christmas Eve at 13 locations in the city. 
It hopes to raise $215,000 with half of it going towards Christmas hampers and gifts for about 1,500 families, which represents a small increase over last year. 
Maj. Bruce MacKenzie, core officer for the Army Haven of Hope Ministries, said this annual event is significant because it raises 20 per cent of its annual budget.
Article content
"They are our neighbours, our friends," said MacKenzie. "A lot of them you may not know that they have found themselves needing help at Christmas, because we don't often talk about it too much. So we're in a position of helping our neighbours and your neighbours."
The Souls Harbour Rescue Mission is also getting ready for the holidays and looking for support for its different initiatives, including its Christmas meal on Dec. 23.
"We don't have a set financial goal in mind," said Patty Humphries with the mission. "What we are most concerned with is getting the gifts for the guests and the donations for the Christmas meal."
SHRM budgets for 600 meals. People can donate a gift by going online and purchasing a gift at www.homelesspartners.ca or by stuffing a stocking for a man, woman or child that will be distributed during the meal, or donating children's toy. Other ways to assist are by donating to SHRM to sponsor individual meals or by providing a financial donation. Information is available online at www.shrmsk.com. 
Women of the Dawn is also looking for support for its annual Christmas meal and children's Santa gifts happening on Dec. 16. 
Ivy Kennedy, founder of Women of the Dawn, said she is scrambling to raise the funds to cover costs for the event. 
She says the meal for 300 costs $1,500 and children's gifts will cost $2,500. Kennedy said it has raised about half of the $4,000 cost, but has her concerns about reaching that target. In the past, companies have sponsored the meal, which meant the focus would be on just the children's gifts. 
Anyone can support it by dropping off children's toys or monetary donations at 3026 Dewdney Ave.