Breadcrumb Trail Links
City Hall
"This is a bylaw that's about kindness. It's a bylaw that says we want to be kind to our seniors who want mobility in the winter, we want to be kind to people with mobility issues."
Publishing date:
Oct 13, 2021  •  October 13, 2021  •  3 minute read  •  Join the conversation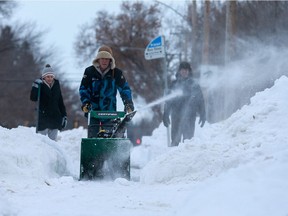 Don't worry, you still have a few weeks before the snow starts to fall. But come Jan. 1, 2022, get ready to clear your sidewalks within 48-hours of winter precipitation. Photo by Michelle Berg /Saskatoon StarPhoenix
Article content
With winter fast approaching Regina residents will need to be ready to clear their sidewalks when the snow flies.
Article content
As of Jan. 1, 2022 the city will require all residential property owners to clear their sidewalks within 48 hours of snowfall after council approved a bylaw change in a 9–2 vote during a meeting Wednesday.
The proposed bylaw was discussed at length at a city council meeting last month before it was tabled. Resuming talks, city manager Chris Holden gave a recap of the bylaw change and additional context saying "we are a winter city and we want to be an age-friendly city."
Coun. Bob Hawkins (Ward 2) said through bickering over the bylaw change, something important had been missed — this policy is about being a good neighbour.
"This is a bylaw that's about kindness. It's a bylaw that says we want to be kind to our seniors who want mobility in the winter, we want to be kind to people with mobility issues," said Hawkins.
Cost, enforcement, and assistance for those who are unable to clear their own sidewalks is secondary, said Hawkins. "Those details can be worked out, but at the root, this is an ask to our citizens to be kind," said Hawkins.
At the last city council meeting, Coun. Jason Mancinelli (Ward 9) asked if it was viable for the city to bear the burden of clearing all snow-covered sidewalks in the city. But on Wednesday, Holden noted it would cost in excess of $3 million to do so.
Coun. Andrew Stevens (Ward 3) said there has been a considerable amount of talk about making the city more accessible and this bylaw seems like an easy way to address that.
Article content
"We regulate the height of your grass, the weeds in your yard, the height of your fence and the list goes on. I think this is a kind and humane way to make our city more accessible," said Stevens.
Coun. Lori Bresciani (Ward 4) said the age-friendly and the accessibility committees, which she sits on, both rank sidewalk clearing as their No. 1 concern.
"There's no way we can have transit if people can't get to their transit," said Bresciani.
A common concern throughout council's past discussion on the bylaw emerged yet again as Bresciani asked what the process will be for people away on vacation or who are unable to clear their walks during snowfalls.
Holden said programs like the Snow Angels program would be able to cover some need or people could rely on neighbours or snow clearing services.
Safety was top of mind during discussion on the bylaw, especially for people with mobility issues.
"We have one of the worst slip and fall records in Canada for a reason," said Stevens.
Speaking frankly on the status quo of sidewalk clearing in Regina's winter Stevens bluntly said in his experience "it is s–t."
Coun. John Findura (Ward 5) argued that while the bylaw would eventually achieve its goal, people not be happy with it and it would lead to conflict with neighbours. Findura and Coun. Landon Mohl (Ward 10) both voted against the bylaw.
During the first year of the policy the city will focus efforts on education and encouragement to reach as high a level of voluntary compliance as possible, according to city administration. A $100 fine would be a last resort.
— with files from Jennifer Ackerman