Breadcrumb Trail Links
Local News
From humour to money, the Regina and area community is reaching out to help amid the COVID-19 pandemic.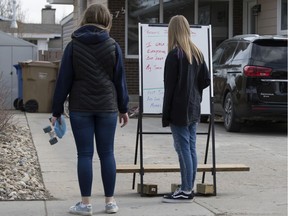 REGINA, SASK : April 15, 2020 — A home in Uplands has a joke of the day on a whiteboard at the end of their driveway in Regina on Wednesday, April 15, 2020. TROY FLEECE / Regina Leader-Post Photo by TROY FLEECE /Regina Leader-Post
Article content
An Uplands area resident alerted the Leader-Post to an "amazing neighbour" who is lifting the spirits of passers-by with "pandemic joke of the day" posted on a white board outside their home.
Advertisement 2
This advertisement has not loaded yet, but your article continues below.
Article content
"It's been going on for just over a week now I believe and it has brightened my walks, and I'm sure many others out walking during these times," said the writer.
"Thanks so much!"
On the day the Leader-Post's photographer captured the sign outside 375 Rodenbush Dr., the writing in blue marker urged people to "Keep Smiling! Love Yourselves! And Love Your Neighbours … From 2 Meters Away!"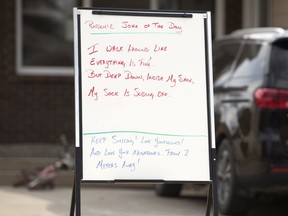 A home in Uplands has a joke of the day on a whiteboard at the end of its driveway on April 15. Photo by TROY FLEECE /Regina Leader-Post
___
Seven pallets of personal protection equipment (PPE) and other supplies gathered from Sask Polytechnic campuses in Moose Jaw, Prince Albert, Regina, and Saskatoon is headed to health regions across the province.
Included in the shipment were: 741 boxes of gloves; 40 boxes of masks with face shields; 212 boxes of procedural masks; 219 boxes of N95 and another 420 N95 masks; four boxes of surgical masks; 780 isolation gowns; 41 containers of hand sanitizer; and 20 tubs of wipes.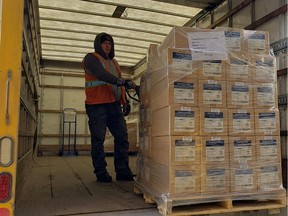 Sask Polytechnic gathered personal protective equipment and other supplies from its campuses across Saskatchewan and donated them to front-line health care workers. Photo supplies by Sask Polytechnic Saskatoon
___
The Metis leadership in Western Region III (WRIII) has set up a temporary COVID-19 Operations Centre for Metis citizens residing within WRIII.  In recent weeks, it has already distributed hundreds of care packages to its citizens and more is available.
Individuals and families can contact the regional office to request support by emailing [email protected].
WRIII covers the southwestern corner of Saskatchewan, with a population of over 10,000 Metis citizens.  It includes Regina, Moose Jaw, Swift Current, Lumsden, Regina Beach, Saskatchewan Beach, Maple Creek, Assiniboia, Willow Bunch and Ponteix.
Advertisement 3
This advertisement has not loaded yet, but your article continues below.
Article content
___
Two Regina medical groups have teamed up with the Rotary Club of Regina to donate money to several local charities.
The Regina Medical Association's donation of $10,000 will be divided between the Salvation Army and the Regina Food Bank.
The Regina Cardiac Society is donating $2,000 to Souls Harbour Rescue Mission and $2,000 to Carmichael Outreach.
The Regina Medical Association is the regional branch of the Saskatchewan Medical Association, while the Regina Cardiac Society's members are individuals who work in cardiology or have an interest in cardiac medicine.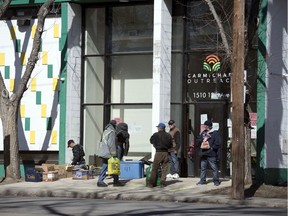 The free meal program is moved outdoors at Carmichael Outreach due to COVID-19 in Regina on Friday, March 27, 2020. Photo by TROY FLEECE /Regina Leader-Post
___
The South Saskatchewan Community Foundation (SSCF) has announced 17  initial recipients of the Emergency Response Fund for Community Needs.
The fund matches donations up to $500,000 to assist in addressing some of the urgent community needs due to the COVID-19 pandemic. The focus is on food security, shelter shortages, helping with children's needs and those needs of most vulnerable populations.
Recipients are: All Nations Hope Network $20,000; AIDS Program South Saskatchewan $23,500; Canadian Mental Health Association $16,000;  Caring Hearts Counselling Inc. $25,000;  Carmichael Outreach Inc. $50,000 Cowessess Community Educational Centre $19,858; Family Resource Centre, Swift Current $5,500; Moose Jaw Non-Profit Housing Corp. $50,000;  Moose Jaw Transition House $50,000; North Central Family Centre Inc. $20,000; Phoenix Residential Society $10,000;  SOFIA House $21,500;  Souls Harbour Rescue Mission Inc. $40,000; Regina Transition House Inc. $20,000;  The John Howard Society of Saskatchewan $35,000; United Way of Estevan $50,000; and YWCA Regina $49,000 — for a total of $505,358.
Advertisement 4
This advertisement has not loaded yet, but your article continues below.
Article content
Donations continue to be accepted online through the foundation's website www.sscf.ca. Current fund holders can use the online donor portal or can email [email protected] or call (306) 751-4956.
___
The CAA Roadside Assistance Regina tow truck operators are lending a hand to the Regina Food Bank with pickup and delivery of non-perishable food items during their COVID-19 Response Campaign.
A surge in request for Food Bank services coupled with the demands of social distancing have made it necessary to put in measures for contactless delivery of food hampers.
To donate non-perishable food items, or to offer financial support, contact www.reginafoodbank.ca.
Have a story about a helper? Email [email protected].



The Helpers: Regina Sikh community distributes free groceries during pandemic




The Helpers: Regina mother-daughter duo donating homemade lunches to Carmichael Outreach
Note to readers: We know the speed and volume of coronavirus-related news is overwhelming and a little frightening. To help with that, we have several reporters looking at different aspects of the COVID-19 pandemic and are gathering all our stories, especially as they relate to life in Regina and Saskatchewan, together on our website. All our coronavirus-related news can always be found here: leaderpost.com/tag/coronavirus.
Click here to sign up for our new email newsletter dedicated to local coronavirus coverage.
Share this article in your social network
Advertisement 1
This advertisement has not loaded yet, but your article continues below.
Regina Leader Post Headline News
By clicking on the sign up button you consent to receive the above newsletter from Postmedia Network Inc. You may unsubscribe any time by clicking on the unsubscribe link at the bottom of our emails. Postmedia Network Inc. | 365 Bloor Street East, Toronto, Ontario, M4W 3L4 | 416-383-2300
Thanks for signing up!
Comments
Postmedia is committed to maintaining a lively but civil forum for discussion and encourage all readers to share their views on our articles. Comments may take up to an hour for moderation before appearing on the site. We ask you to keep your comments relevant and respectful. We have enabled email notifications—you will now receive an email if you receive a reply to your comment, there is an update to a comment thread you follow or if a user you follow comments. Visit our Community Guidelines for more information and details on how to adjust your email settings.